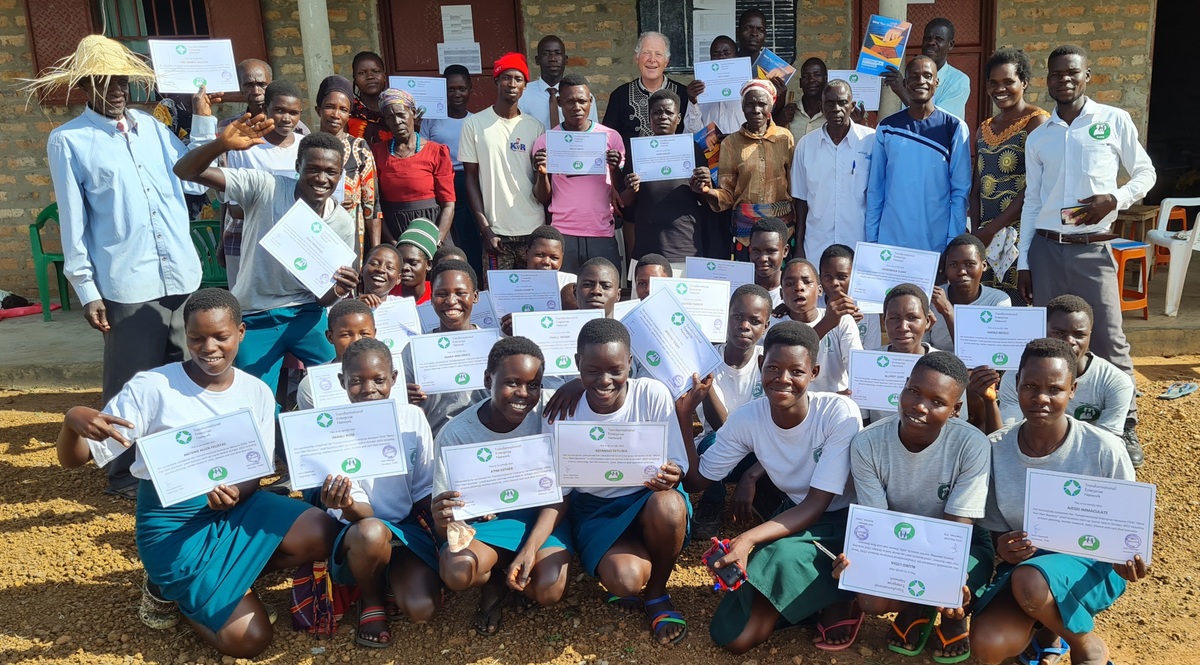 Jerry spoke at the October Gathering from TANU in Uganda, describing highlights of the trip, some of the outcomes and describing it as "amazing" and very humbling.
The event started with the TANU choir but this did not come over very well and was cut. The rest is clear. The recording is here.

A news release has also been issued, see below for information.
NEWS RELEASE: 27 October 2022

INFORMATION AND PHOTOS:
Jerry Marshall, 07941 017236 [email protected]


Christian Impact Entrepreneur's Uganda visit bring new hope and significant initiatives

Cheshire businessman Jerry Marshall has just returned from one of the poorest parts of rural Uganda after delivering business start up training to over 50 people and training trainers. Initiatives now being explored include setting up a fish farming franchise and an "Africa Experience" cultural tourism initiative across Uganda.

Jerry is a member of St Mary's Church Weaverham and Founder Director of Transformational Enterprise Network (www.tencommunity.net). TEN is a community of Christian business people committed to developing enterprise as the long-term solution to poverty.
The partner projects he visited are in the Teso region, one of the poorest in areas of Uganda, after decades of attacks by cattle raiders, the LRA and Government forces.

"I was in a village where £1/day is a good wage if you are lucky enough to have a job," said Jerry. "Dirt poor is the phrase that came to mind: ragged barefoot children, mothers catching small catfish from a swamp, water being carried in jerrycans from the borehole.
Yet there was a humbling generosity. On the homestead where I stayed, a street kid from Kampala and several other needy people were being cared for."
The training course was delivered at a vocational training organisation TANU (Transformational Advocacy Network Uganda) and was an adapted version of "Mind your own business" (www.mindyourownbusiness.uk). The course is now being written up for the rural Africa context so that TANU staff can deliver the programme in future.

A knock-on effect is a real excitement for the future, and an increase in student applications for next year, which will help the centre become viable. Joel Odongo, an orphan who sold his only asset, a bicycle, to found TANU said, "Your visit has been a blessing, caused change and brought new hope. Everyone is so delighted and encouraged."
Other outcomes include setting up a Dorcas dress project which will enable quality dresses to be made to an award-winning design and sold in the UK; and setting up a fish farming franchise across Uganda as a partnership between an expert franchisor, investors receiving a 10%, and operators like TANU.

Jerry is also working with the Ugandan Ministry of Tourism to encourage cultural tourism in the region with an African glamping style guest house experience, especially in the area around these 5000-year-old Nyero rock paintings.

"It was an amazing experience to be there," Jerry reflected. "Memorable experiences include trainees singing gospel songs at every break; travelling a Boda Boda (motorbike) after dark with two heavy suitcases and a driver able to hold my backpack, answer his phone and avoid the potholes; and introducing marshmallow roasting over the camp fire causing much excitement and laughter."

ENDS